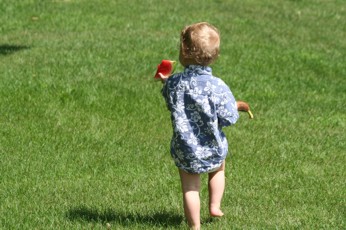 Aron marched around dad's backyard for a long time with a banana in one hand a slice of watermelon in the other.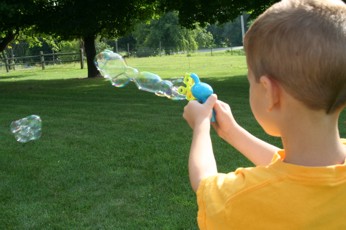 The boys played with a bubble gun on Tuesday before the Bowen's arrived.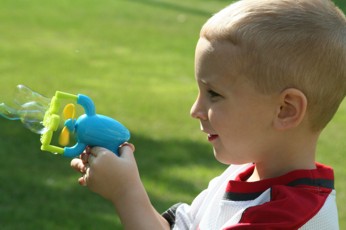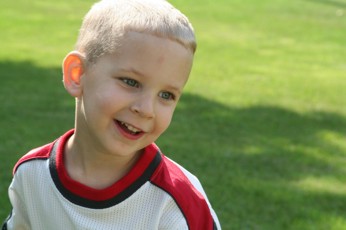 Ivan was having a great time and then…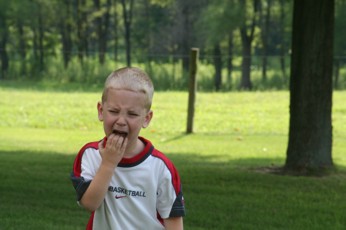 …while chasing bubbles he somehow came into contact with the electric fence.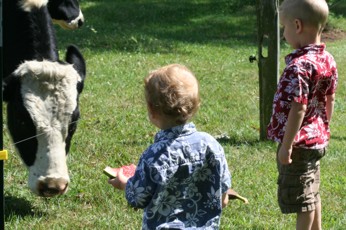 The kids fed scraps to the cows on Wednesday afternoon.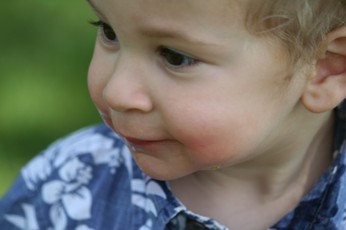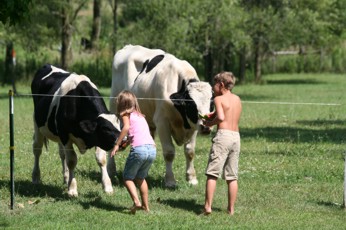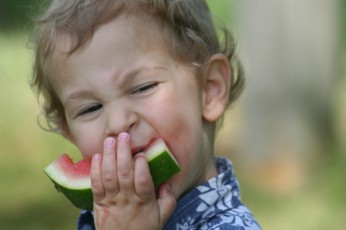 Aron had the best time with a slice of watermelon.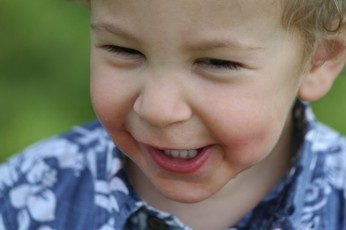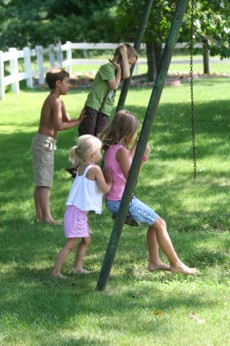 The cousins having a good time on the old swing set…even the broken part.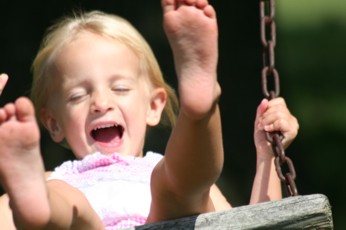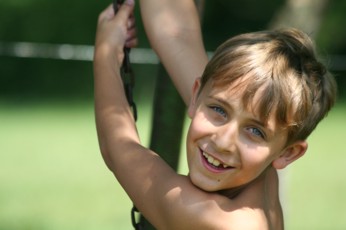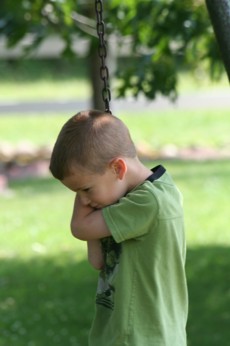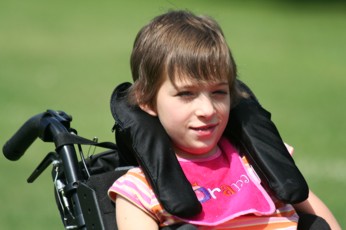 It was difficult getting a smile out of Grace, but she managed to work a halfway grin out for me.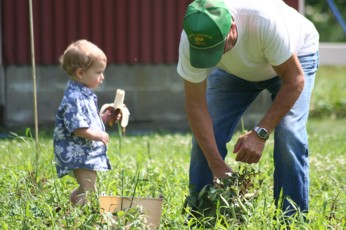 It was time to work in the garden and Grandpa had lots of help picking peas…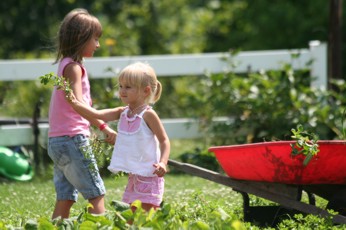 …and pulling weeds.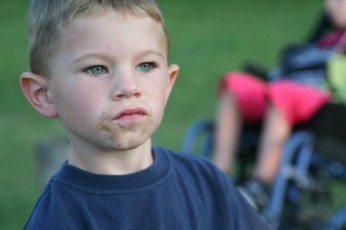 That evening…our cousin's Tobey and Jesse and their families were invited over for hot dog roasting and a little chatter around the fire. Tobey and Erin and little Logan (pictured) came and Jesse brought his adorable little Taylor but they had to leave early. It was the first time I was able to meet Taylor so that was a treat.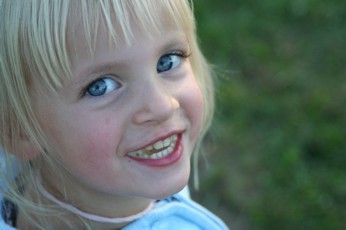 Faith likes the camera.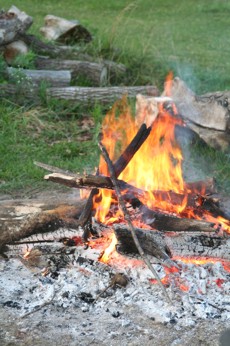 I like fire.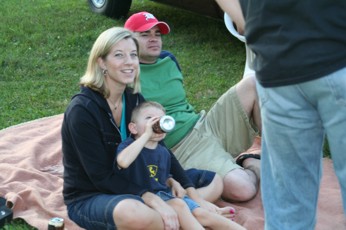 The Schwartz', Erin, Logan and Tobey.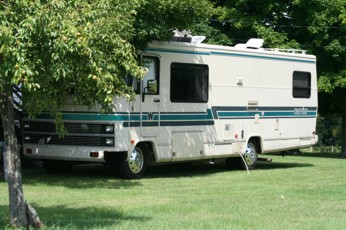 Oh yeah, this is where the boys and I have been sleeping.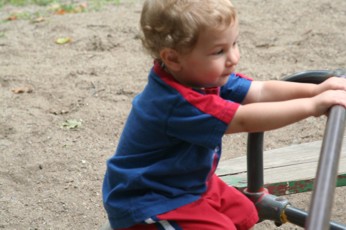 On Thursday, I took Hope, Ivan and Aron to the church park to play for a little while. Of course I took a bunch of pictures again. I love that little park.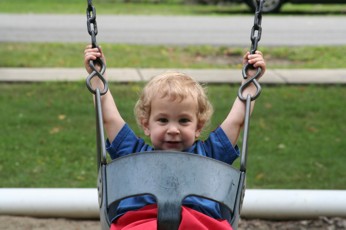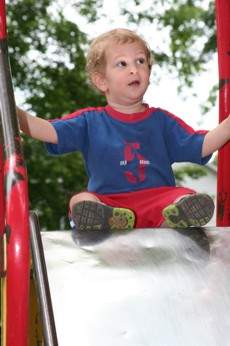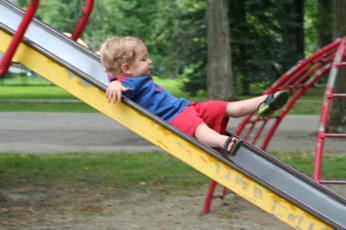 Aron went down the slide in this awkward way over and over.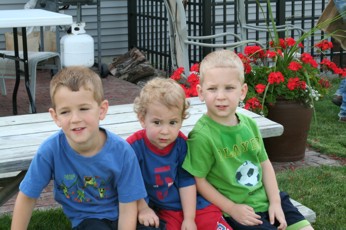 That evening while at my cousin Gina's house I had several photo opportunities. I was hoping to get the boys smiling on this miniature picnic table and in front of these pretty geraniums…at least the background was cooperative.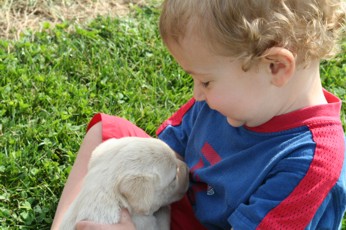 All the kids enjoyed these puppies. They were so cute…and of course scared to death with all the commotion.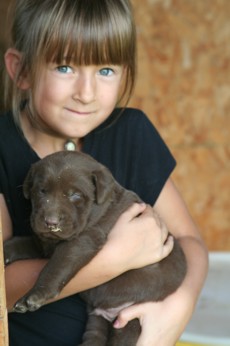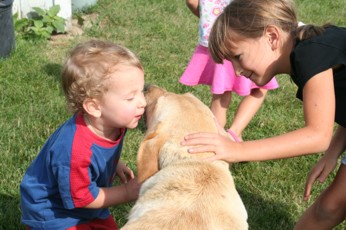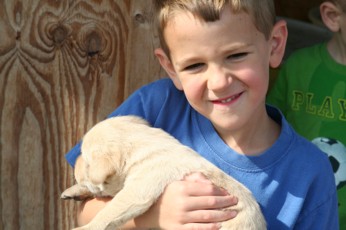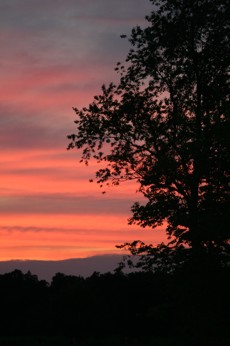 I wish I had taken more pictures of all the kids and the activities. It was a beautiful evening and I was just enjoying it so much I forgot to record it more permanently. All of us women-folk were sitting inside and after a while Esther, my aunt, said "Oh, look at that sunset!"
I grabbed the camera and went outside and tried to capture a bit of it. Of course it's impossible to funnel something breathtaking into a flashcard, but that's what we keep trying to do when we pull out cameras isn't it? It was bigger, pinker, more vibrant, more…more. But hopefully you get the idea.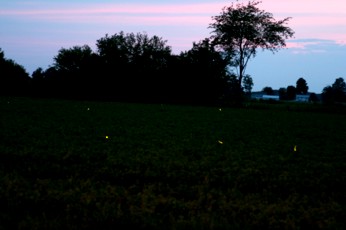 Then as we were leaving I looked at the field adjacent to their driveway and the lightning bugs were putting on a magnificent show. It was constant light play, like a shimmering sequin sea. My cousin Emily helped me adjust the camera and finally just took this photo for me. Obviously we didn't have the needed equipment or know-how to make this what is still pretty magnificent in my memory, but I hope you can imagine the firefly works that were happening.
Today we visited my grandmother, Reubmommy, and oh…I think tonight I'll probably cry in my pillow a little thinking about it. She was so small…so quiet and pale…her 95 year old hands that never stopped stitching and creating were silent in her lap and her voice was weak and soft. She wasn't herself…or maybe she just couldn't show us so vibrantly. Her eyes still had a spark and her ability to smile and find joy in what she saw around her was obvious. I couldn't quite get a grasp of my own feelings when I was there…so much going on with three little boys in a fragile place…but I know that suddenly I wanted to kiss her little soft cheek. And I did before I left.