It was a busy Memorial Day weekend. Friday afternoon and Saturday all day were not unlike most weekends except that knowing we had Monday at home with Kris I played like we were all on vacation and made sweets and insisted on long breaks to watch movies and otherwise spoiled myself with play time. We did some grocery shopping on Saturday and accomplished some clean up around the house. On Sunday, we had a nice Memorial Day service at church. It's always the biggest thing the choir does all year. This year was no exception, music and performances to get us all to remember what the long weekend is really about. That evening we went to Brent's house for grilled hamburgers and all that goes with it, visiting with long lost friends and a few out of towners and keeping the boys up to the point of misery. Then yesterday, we shopped a bit, did a few loads of laundry and set up Camp Kelso: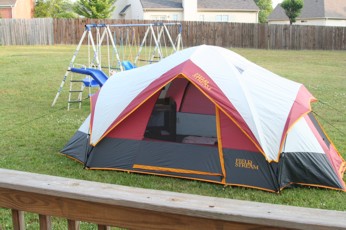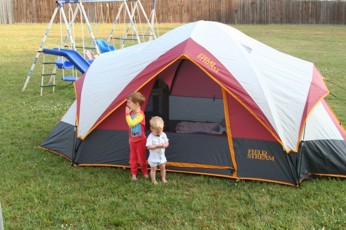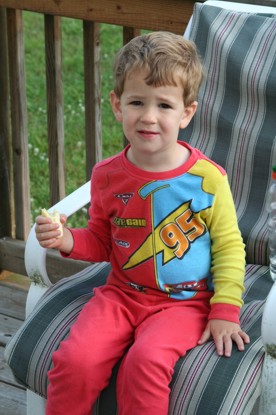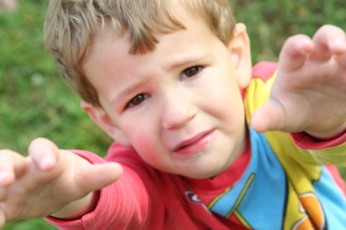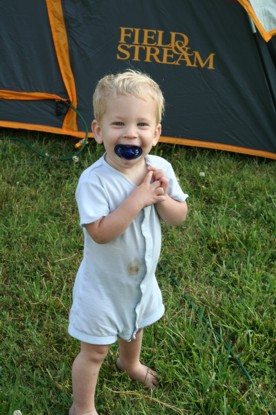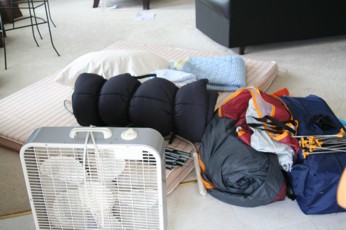 We decided to take a little camping trip last night. Backyard camping is a good way to let a pregnant lady and little kids experience some outdoor activities. The tent was set up and beds ready by 7:00ish last night, then we took baths because it was so hot when we set up that we were disgusting. I got the boys cleaned up and we all got in the tent sometime around 8:00 to sit around the laptop and watch The Muppet Show on DVD. We had a box fan plugged in and circulating some air for us, a mattress from one of the hide-a-bed couches, a sleeping bag, pillows, a pack-n-play for Ivan and a Lightning McQueen flashlight/lantern combo to keep us out of the dark. Of course we were so exhausted we didn't need a light because we were asleep before it got very dark. Owen was the first one to spot the moon coming out from behind a cloud as we laid down on our comfy mattress. We saw a few lightning bugs, talked about where the stars might be hiding and made guesses as to all the noises we heard around us in the neighborhood. Ivan cried himself to sleep having been so exhausted from a busy day with little nap time afforded him that he couldn't quite get past his own misery. Owen talked himself to sleep and flopped around incessantly in an effort to get comfortable. When I woke up this morning his head was on my pillow (along with mine) he was lying on his back, almost perpendicular to me with his arm up over his head and across my neck. No wonder my dreams were focused on breathing and air flow. I did have to get up at least three times to run into the house and use the restroom. Pregnant ladies need to camp close to the back door. This morning Kris had to leave very early to visit the hospital where a member of our Sunday school class was scheduled for a C-section at 7:30. I got the boys up, fed them a simple breakfast out on the deck and then tore the tent down still in my pajamas. It was just getting hot outside when I got the last bit inside before 8:15. Actually it's pretty pleasant outside but I knew if I waited very long at all it would be too hot to work out there. With the sun up as early as it was I made it just under the "too hot for Mary to work outside" wire. It's still sitting here in the living room waiting for final pack up, washing and stow away but the rest of the work can be done in the air conditioning so it will wait a little longer while I assist Owen in play room clean up.
I really hope we can do it again at the end of the summer. Maybe after the new baby comes.